floral dollar tree pumpkin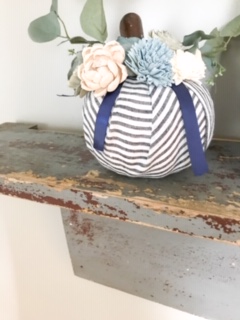 When I think of fall….I think pumpkins. There are literally hundreds of ways to make a pumpkin. I've tried several different projects making pumpkins and this one I'm about to show you was a huge hit.
You have all seen the dollar tree foam pumpkins. They are so many ideas on Pinterest using the same pumpkin. So I did my own spin on it. That's what doing a project is all about. Make it unique to you!
You will need:
dollar tree foam pumpkin
fabric napkin
exacto knife or box cutter
wood florals
eucalyptus stem
craft paint
plastic bowls
water
paint brush
hot glue gun
stem of some sort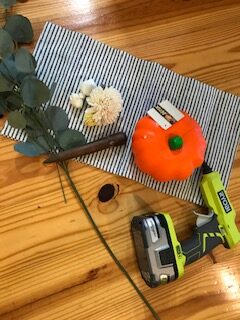 Grab a dollar tree pumpkin form and use your knife to cut open the top and discard it. You will tuck in your fabric around the pumpkin, pleating it as you go. I used a ticking stripe cloth napkin that I had. It worked well for this project.
Once you have your fabric inside your pumpkin, you can start to work on your flowers. I dyed my sola flowers in fusion mineral paint and water. It is really easy and this way, you can tweak the project to your colors in your home. I chose a blues and pale pinks for this pumpkin project.
In case you haven't seen the blog post painting the wood flowers…click here for the steps.
I found an old tobacco peg to use for my stem and wrapped a solid navy ribbon around it a couple of times. The eucalyptus stems are at Walmart and are $3 a stem. It would only take one to have enough for this project. I just clipped off sprigs to make it go farther.
Once the flowers have dried, you can start to add them to the top of your pumpkin. I just grabbed my hot glue gun and started adding them. Easy peasy! It really turned out to be a cute project and you can adapt to any style that you have in your home.
Here is the pumpkin after it is all finished up! Let me know if you try this project in the comments below. I'd love to see how everyone does in their own style!
Make sure to Pin to Pinterest!
Just click on the photo in the upper right corner and click the red pin it button.
For more inspiration, make sure you are following along on facebook, Instagram, Pinterest, and subscribe to email for the latest.