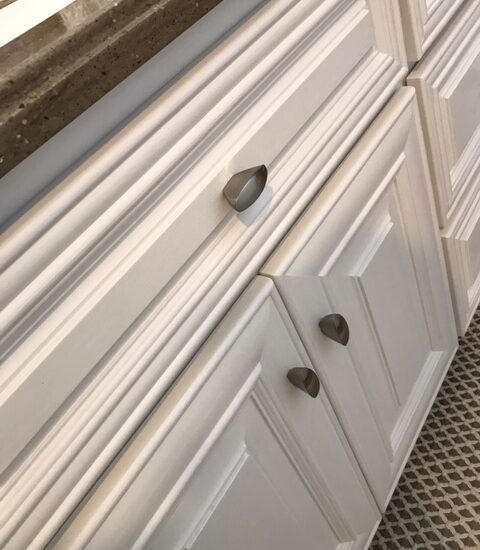 Do you ever have that space that you aren't super happy with? My kid's bathroom was one of the many in our home. After 9 years of living here, our house is in need of some TLC. This bathroom needed fresh paint. So while we were quarantined I picked up a gallon of Sherwin Williams sea salt. So that started the process…..everything is a process, one project leads to another kind of process. I'm sure you feel my pain. This is what needed updating below.
Updates:
Paint colors
light fixture
hardware
built-ins
mirror
My first task was to tackle the walls and that took a couple of days. I chose Sherwin Williams sea salt. My son shares this bathroom with his sisters, so I didn't want to go completely girly. Even though a blush pink would be so pretty!
Here is a Before & After with painting walls:
I had my husband add some trim to our built ins to dress them up. It was a thin piece but made a huge impact to shelves I'd been staring at for a couple of days. This was an awkward space when we built and so my father in law made some built in cubbies to hold extra towels. I love having the space.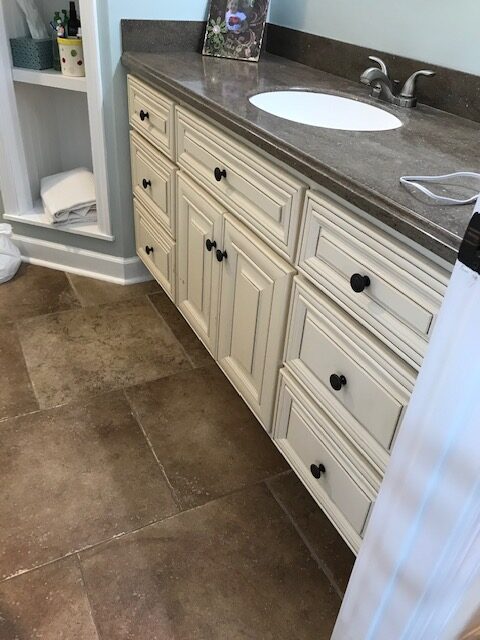 Cabinet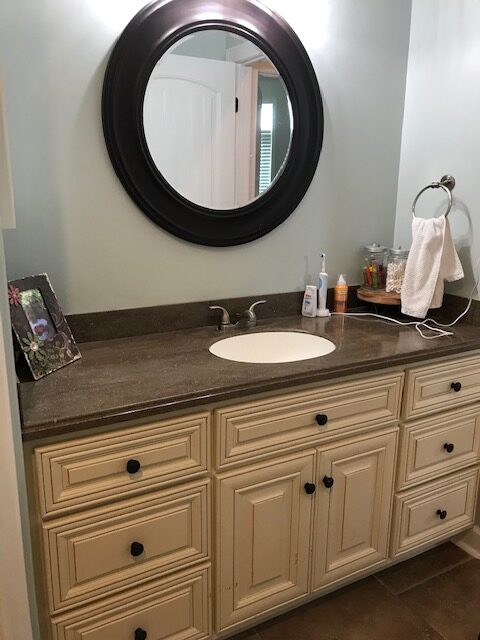 This was a before on the cabinet. They were painted in a creamy color and now with the new wall paint color and the wear from the kids, I decided it was time to paint those as well. I know someone will ask so here is a brief run down of what I did.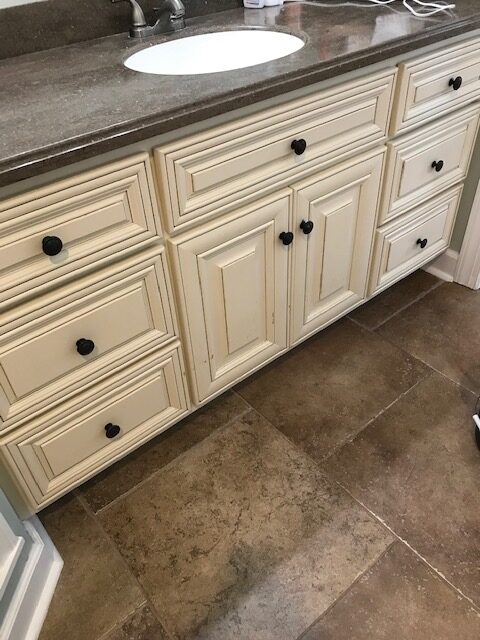 Cleaned the cabinets twice with a mild cleaner and dried.
Lightly sanded with 120 grit sanding block.
Picked my color in Fusion and started painting. Keep reading and I'll explain the paint.
Sealed with matte poly with cloth.
Fusion is a mineral paint. It has similar qualities to chalk paint but this has built in sealer so normally wouldn't have to use poly or wax. However, I do not want to have to paint these cabinets again for a very long time. After a day, I ended up sealing with Fusion tough coat to give them added protection.
Here is the After: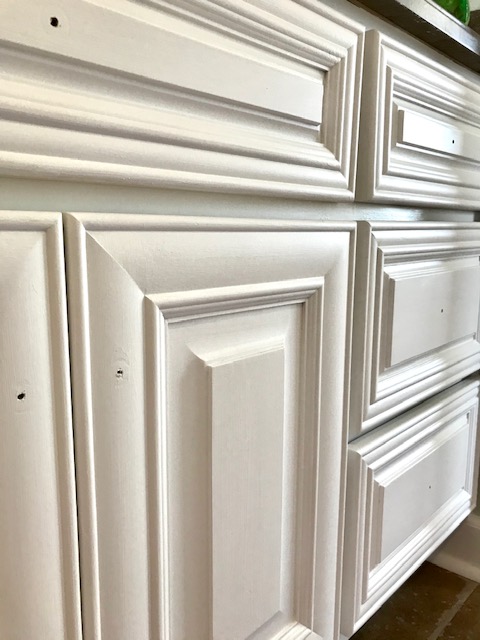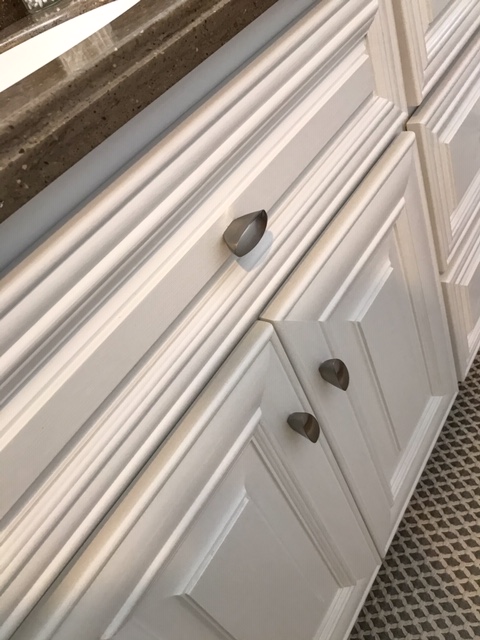 Mirror
The mirror was another project in itself. I wanted an antique mirror and I asked Chasida with Custom Souther Co to be on the look out for me one. I took citristrip to it and sanded the heck out of it. I wanted a raw wood look and then decided to add a little liming wax to it.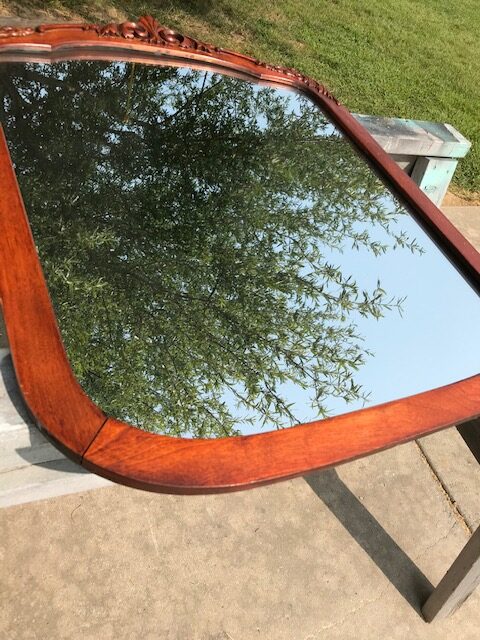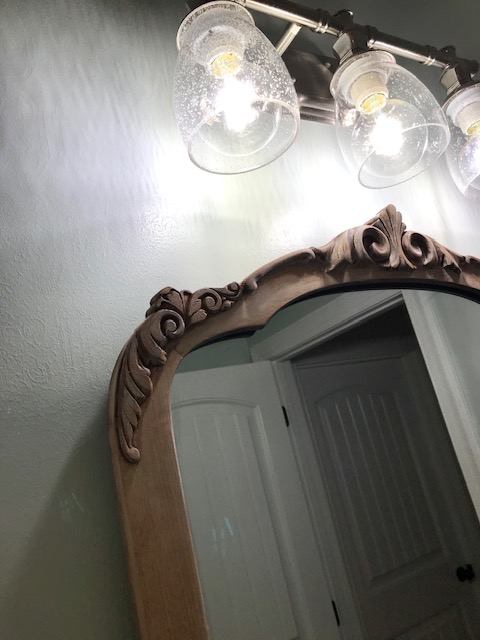 Light fixture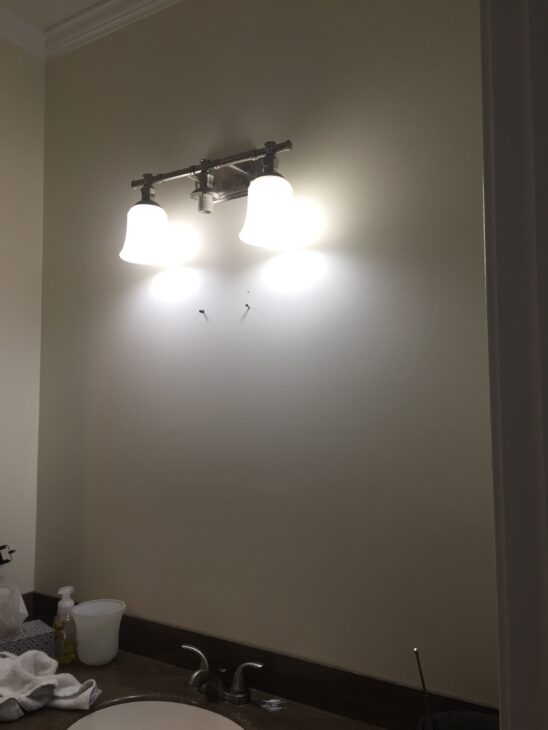 So as you can see one project to another. That's how it all usually starts. This wasn't an expensive overhaul or makeover, just simple updates that don't break the bank. Think of ways you can update your space on a small budget!
After: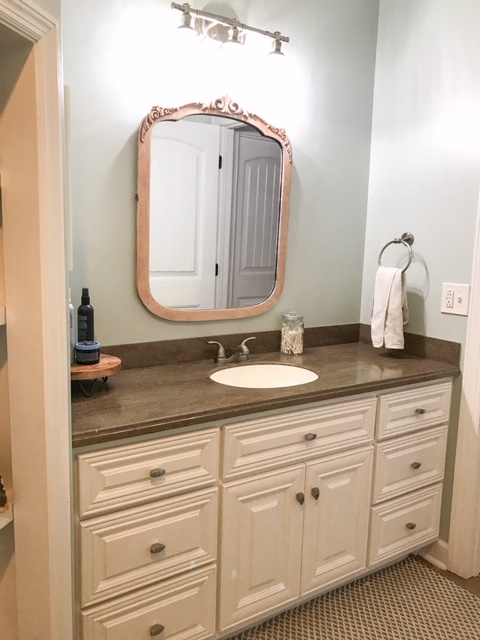 Make sure to Pin the photos to Pinterest!
In case you want to check out more of my makeover posts…. click here and here
For more inspiration, make sure you are following along on facebook, Instagram, Pinterest, and subscribe to email for the latest.