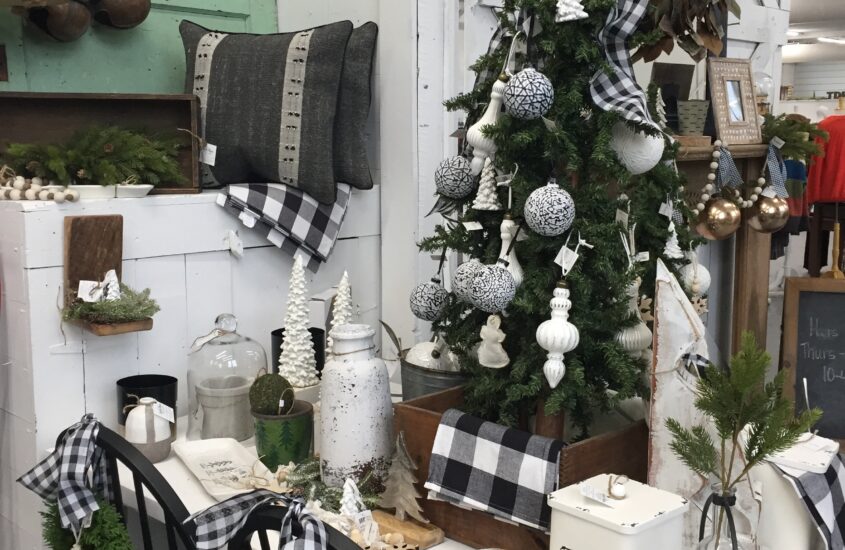 If you have followed me for any length of time, you know I love a good DIY!  This project is no exception!!
It is great one if you are wanting a farm table but can't afford to have one custom made.  Let's face it, sometimes we need or want something and it just isn't in the budget.  
For this project, you will need to search Facebook marketplace, For sale sites in your area, flea markets, or just the old fashioned way of hitting yards sales on weekends. You can find these table in our area most days for under $50.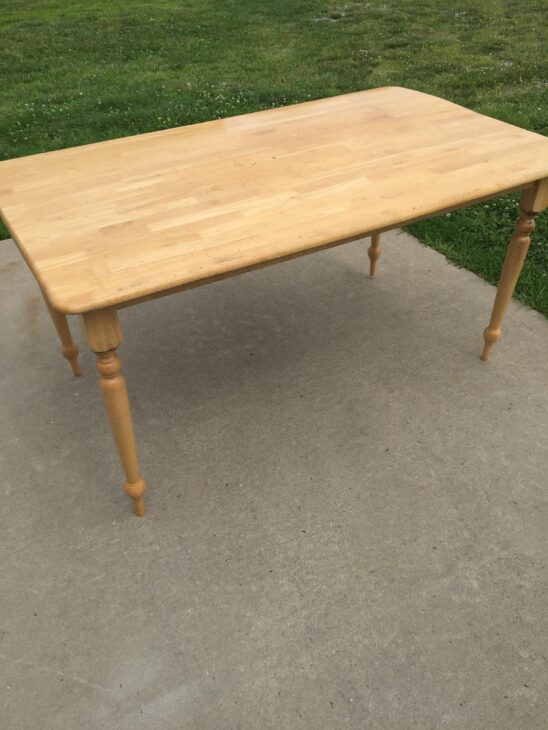 You may need a new table for Thanksgiving dinner (or extra one) & a new one isn't in the budget. You could possibly use this tutorial for outdoors during the summer. It would just need to have extra protection in a sealer or be under a covered porch.
The table above has a piece of laminate (not real wood) and to make it look like a farm table you can replace the top for a whole new look. We have done numerous projects like this over the years when we had our booth. I always posted my projects on social media but never documented the process or how we did it. It may take me awhile to get them all written but I will get there.
The most expensive thing my husband has found when building tables is not in purchasing the lumber but in the decorative legs. That is the reason, you see some people trying to build custom tables with just square posts. The chunkier the legs and more decorative, the more expensive they are. Upwards of $20+ each for a plain style. This tutorial will give you another option.
When you are searching, pay attention to the style of the legs and how sturdy the frame is. I will show you how easily the top comes off and you can then discard it.
STEP 1
Flip your table over. Unscrew the frame from the top of the laminate piece. You will discard the laminate.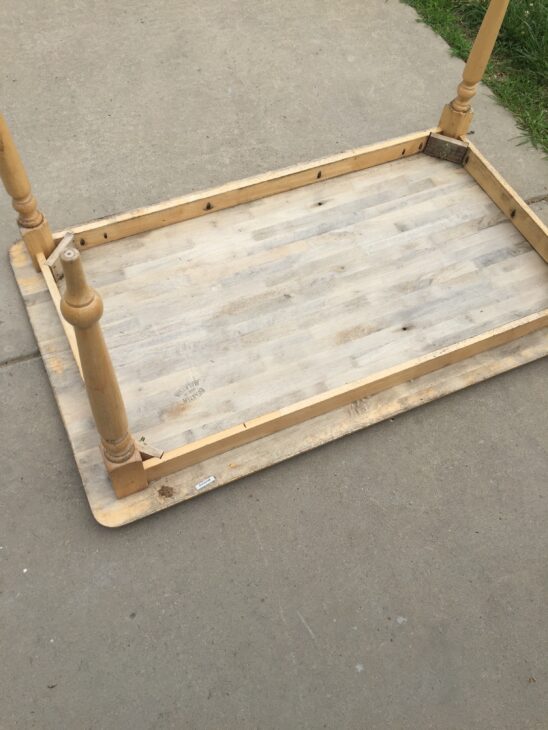 STEP 2
Next you measure out from the apron about 2″ all the way around. Most of these type tables are 3′ x 5′, so on that standard size you will need about 4 boards. We used 2″x6″ boards and anything larger on this table will make the table too heavy and out of proportion with the skinner legs. Make sure your boards are good and straight. You can have Lowes or Home Depot cut them down to the desired length that you need.
Once you get home, you can lay out the table top with the good side facing down. Sometimes you may have a notch depending on the grade of lumber you get.
If you have a Kreg jig, that would be the best way to attach the boards to each other. This tool allows for you not to see any of the screw holes because it goes through the sides. See the picture below.
If you don't, you can glue lathing strips and then nail/screw strips them along the width of the underside. You want the entire top to be in one piece when you are finished to be able to then attach to the frame. Pipe clamps will help pull the boards together when you are working.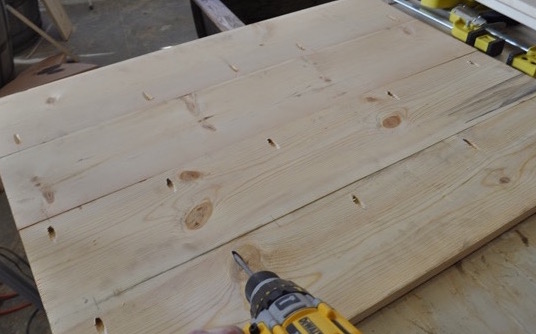 STEP 3
Once you get that finished, you need to place the new boards onto the frame. There are already places for you to screw base to the tabletop. Make sure you are using wood screws and are long enough but not come through the top.
You are finished except for putting whatever finish you want. Stain, paint, however you want it to match your style. I ended up painting the boards and base in this particular table with Fusion mineral paint in casement.
All you have in cost for this project is the table itself, the 2×6 boards, screws, and the stain or paint you use!
Here is the table decked out for Fall and Christmas!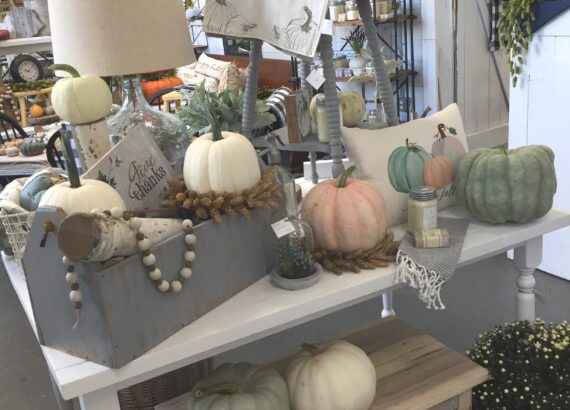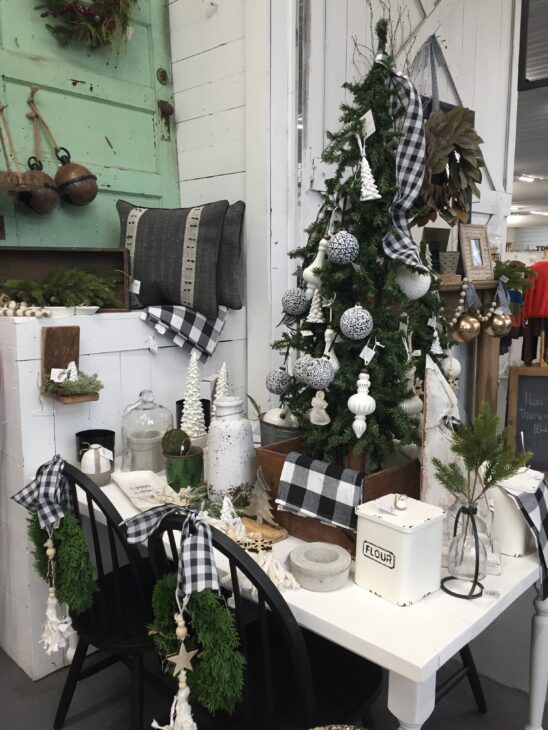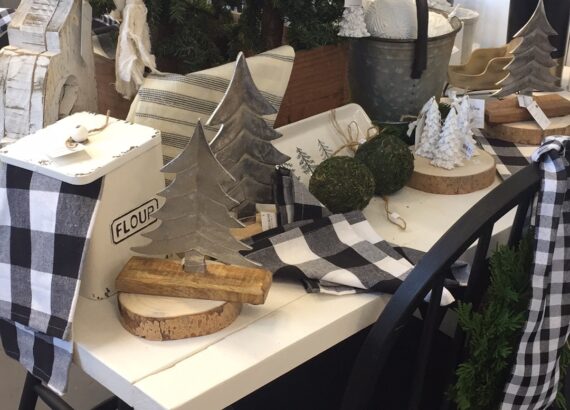 Here are a couple more over the years.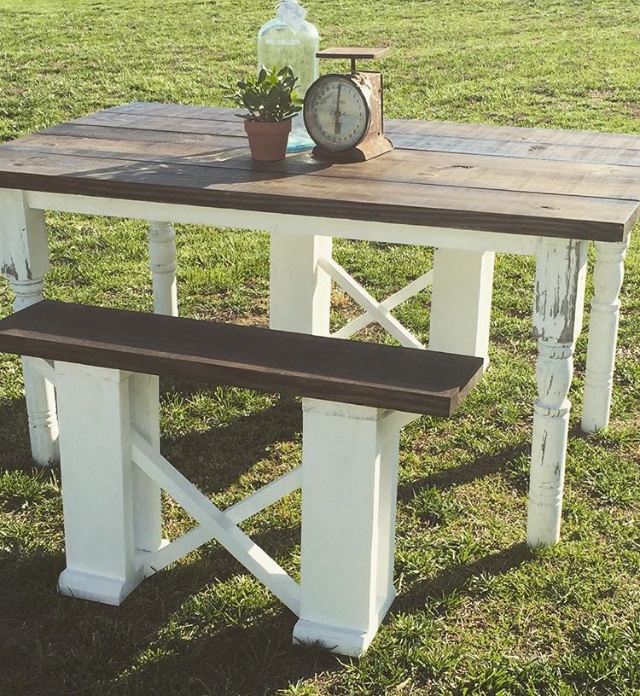 If you love simple and easy tips, follow along with me on Facebook, Instagram or Pinterest.